Shipping is an integral part of business these days, but nobody likes actually paying for it.
So why don't you pay as little as possible? I'll teach you about our shipping systems and how to get the cheapest possible shipping cost as well as how to optimize your cart to get your items in the quickest manner!
We have our "main" warehouse in Victoria, BC but we also offer direct shipping from a lot of our vendors and partners. For example, all of our End Mills are made at our Winnipeg factory so you'll have the choice of getting them shipped straight to you from the factory, or shipped from our warehouse in Victoria. For simple end mill orders, you'll probably want to get those shipped straight to you as they're small and will save you time. But what if you're ordering more than just end mills?
That's where the Consolidated from BC Warehouse option might come in handy! See, you will be asked to pay for each individual shipping charge when choosing the Direct Shipping option but when you choose the consolidated shipping option, you only pay for the one shipment. See the below example comparing the shipping costs of multiple direct shipments vs the consolidated shipment.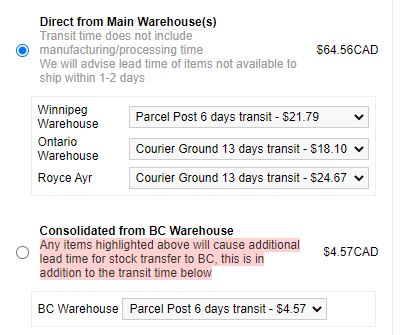 The next thing to look at is if you can order all of your items out of one warehouse. Like with our End Mills, most of our vendors have their own locations where they specialize in certain product ranges. For example, Klingspor does sandpaper and other abrasives while Royce Ayr makes high quality saw blades. Klingspor isn't the only vendor that we use for abrasives though! If you want everything to ship from one location - and only pay one shipping cost - you should be watching for the "Brand" on the product pages and making sure they match the other items you're ordering.
You can find this right above the product code beside the picture of the item. Also on the product page, you'll see that some locations show stock on hand and/or lead times! Check out this example on a product page showing both the brand and the stock on hand:

Worth noting; some locations do have a minimum order restriction, so keep that in mind when placing an order. You can find a full list of Direct Ship locations along with any minimum order requirements on our "Shipping By Vendor" page here: Click Here
Lastly, you'll want to check the different shipments directly in the checkout. This is more of a "second check" as it'll group all of the items by which location each item is shipping from. See the example here: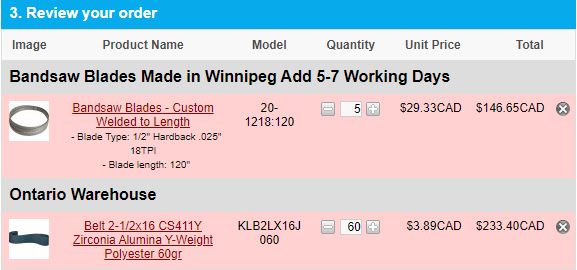 If you select the "Consolidated from BC Warehouse" shipping option, you can ignore this entirely as everything will ship from the BC Warehouse instead.
And that's about it. You're now an expert at finding the best shipping options! 
Of course, if you want more information on anything or just prefer to talk to a real person, you can always send us a message or call our toll-free number at 1-888-665-6936.