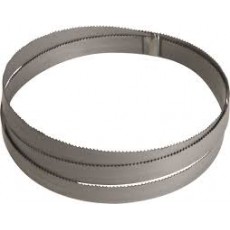 Band saw blades from Online Supply are custom made to your specific requirements, so you can get the best possible blade for your particular application.
If you already know what you need, then head on over to our Custom Welded Bandsaws page and fill out the custom blade form. If you are not sure, then keep reading and we will help you figure out what would work best for you!
Note on 3 Wheel Bandsaws and Bench Top "Hobby" Saws  –  These hobby saws typically have wheels that are 10" or less in diameter and require a special thin guage, flexible bandsaw blade. We do not recommend ordering our custom bandsaw blades for these saws as the smaller wheels put more stress on the weld and material making them more prone to breakage. The recommended material for these saws is thinner (.014" or .018") and more flexible. We have a selection of these special blades available for order here: List of Available Hobby Saws HERE!  If you do not find the size you need on this page, send us a message so we can send you a quote.
Step by Step Process for Custom Bandsaw Blade Ordering
Bandsaw Blade Length – The 1st thing you will need to know and the first entry on our custom bandsaw blade page is the length of the band. Often times you can find the required length printed right on the saw, usually on a plate with the make and model number of your saw. If this is not available you have a few options:
Measure an old bandsaw blade – You can do this by cutting the blade and laying it out flat to lay your measuring tape beside. If you want to keep this blade for future use you can measure it while it is still welded, but this is a little trickier. Starting at the weld, place the end of your measuring tape so it lands right on the weld making sure the teeth are pointing away from the direction you are about to go. Holding the tape tight to the blade, move your hands down the blade about a foot or so. You don't need to keep the end of the tape on the weld as long as you never lose contact between the blade and the measuring tape. Keep moving over the blade about a foot at a time until you come back to the weld. The measurement when you get back to the weld will be the length for your bandsaw.
Use masking tape or a string – Another method for determing the length of your blade is to set your bandsaw wheels in working position and wrap maskingtape or tie a string around the loop where the blade will go. Make sure it is nice and tight. Remove the tape or string, cut it and lay it out flat to measure the length.
Calculate the blade length –  If you love math, then here is the mathematical method for calculating bandsaw blade length
Set the pullys or wheels in working position

Measure the distance from the centre of the hub on the upper and lower wheels (C)

Determine the radius of both the upper (R1) and lower (R2) wheels (they may be different)

Apply this formula: (R1 x 3.1416) + (R2 x 3.1416) + (2 x C) = length
Ready to buy? Click Here to go to the Bandsaw Blade page
Bandsaw Blade Width – The next selection is for how wide of a blade you need. Keep in mind that you can "mix and match" so you can select several different width and tooth combinations to cover your needs. For most metal cutting saws, especially the horizontal/verticle style, you will be best to run the maximum blade width the saw is designed for as you are just cutting straight. For all other saws, your width selection will depend on the capacity of your saw along with how tight a curve you want to be able to cut. As a general rule, you will want to select the widest blade that can still make the curve cut you require. Below is a chart indicating the tightest radius for each width of bandsaw blade.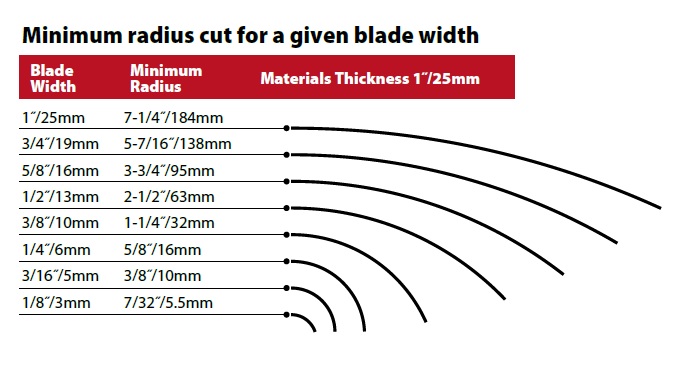 Bandsaw Blade Material – At this point you will notice that the blade materials showing at the bottom of the page are sorted into categories; Flexback Carbon, Hardback Carbon, Specialty, Bi-Metal Matrix and Bi-Metal M42. First we will discuss the differences of these materials and then we will get into TPI selection.
Flexback Carbon – Made from high carbon steel with hardened tooth tips. The unhardened flexible back makes these blades more resistant to fatigue from the stress of curve cutting. Most popular for wood cutting, these blades also work for aluminum and other non-ferrous metals. They are an inexpensive blade with a low cost per cut in wood.
Hardback Carbon – Similar to the Flexback carbon, however these blades are stiffer due to the hardened and tempered back. This makes these blades ideal in situations where straighter cuts or heavier feed pressure are required. This general purpose material is effective in; wood, plastic, cork, composition board, plywood, low-alloy ferrous metals and non-ferrous metals.
Specialty – We have 3 "Specialty" blades listed in our selection:
Furniture Band – Designed specifically for the furniture industry, these blades have an aggressive tooth design for fast cutting and long life. This .032" thick blade is slightly heavier than standard bands offering better precision and contour control.
Meat Blade – Blades designed specifically for meat cutting saws in butcher shops.
Quicksilver Wood Mill – For stationary and portable woodmill and re-saw machines. Resharpenable hardened teeth offer a low cost per blade and low cost per cut when milling wood.
Bi-Metal Matrix – Popular in maintenance and small fabricating shops, the matrix blades are for general purpose cutting of materials with easy to moderate machinability. For small to medium size bandsaws.
Bi-Metal DUOS – These blades are exclusively designed for light-duty bandsawing machines to cover a very wide range of cutting applications. Most cutting applications can be cut efficiently and economically with the DUOS 9/11 pitch. Long life on mild solid steel, heavy wall tubing and structural steel.
Looking for an "all-purpose" metal cutting blade? Choose the DUOS 9/11 pitch!
Bi-Metal M42 – The workhorses of the metal cutting industry, these blades are a combination of hardened M42 teeth and tool steel in combination with a fatigue resistant backer. Excellent on difficult to machine solids and heavy walled structures. For medium to heavy production machines.

Ready to buy? Click Here to go to the Bandsaw Blade page
Tooth Per Inch (TPI) Selection – Picking the right TPI for your application can be the trickiest part of ordering a bandsaw blade so use this guide to help you get started and then experiment to find out what works best for you. The chart below indicates the "minimum" material thickness that you should cut with each TPI selection. Keep in mind that this is just the minimum and not necessarily the ideal selection for your application. So, as you increase the TPI from the minimum, you improve the quality of the cut and reduce the blades ability to clear the material removed from the cutting process.
Wood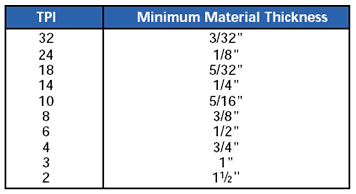 Metal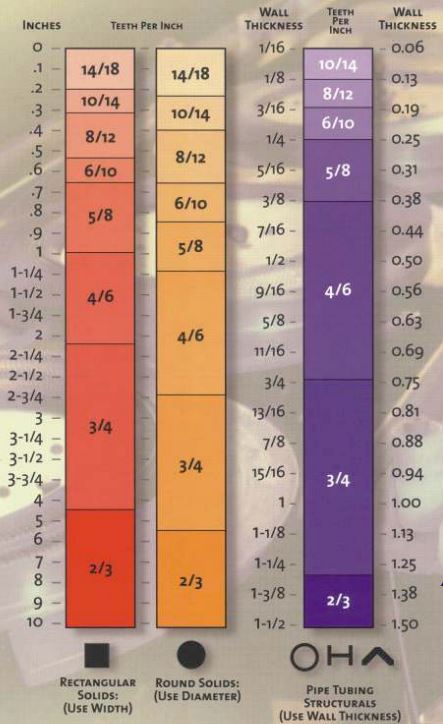 Here are some common applications along with appropriate blade selection to help guide you:
Wood or plywood up to 1" thick – use 6 TPI

Wood 2" to 4" thick – use 3 TPI or 4 TPI

Wood 6" to 12" thick – use 2 TPI, .75 TPI (3/4" tooth pitch), .875 TPI (7/8" tooth pitch) or 1TPI
Aluminum Sheet – use 8 TPI to 10 TPI

Aluminum Pipe – use 6 TPI or 8 TPI

Aluminum Solid – use 6 TPI or coarser depending on thickness
Steel cutting on small or portable bandsaw – use 10-14 variable pitch

Steel Tube – use 6-10, 8-12, 10-14 variable pitch

Steel Solid – use 6-10, 5-8, 4-6 variable pitch

Steel Sheet – use 8-12 or 10-14 variable pitch
Using those examples as a starting point, pick blades that seem to suit your application best. Keeping in mind that bandsaw blades do wear out and will break eventually we reccomend you keep at least a couple of spares so that you don't have to put an abrupt end to your production while you wait for new blades.
Metal Cutting Speeds for Bi-Metal Blades – The speed your bandsaw cuts is very important when cutting different metals. Most woodworking saws go too fast for metal cutting, unless you are able to set up a step pully system to get down to around 10% or 20% the original speed. Please refer to this chart for general information on cutting speeds for metal.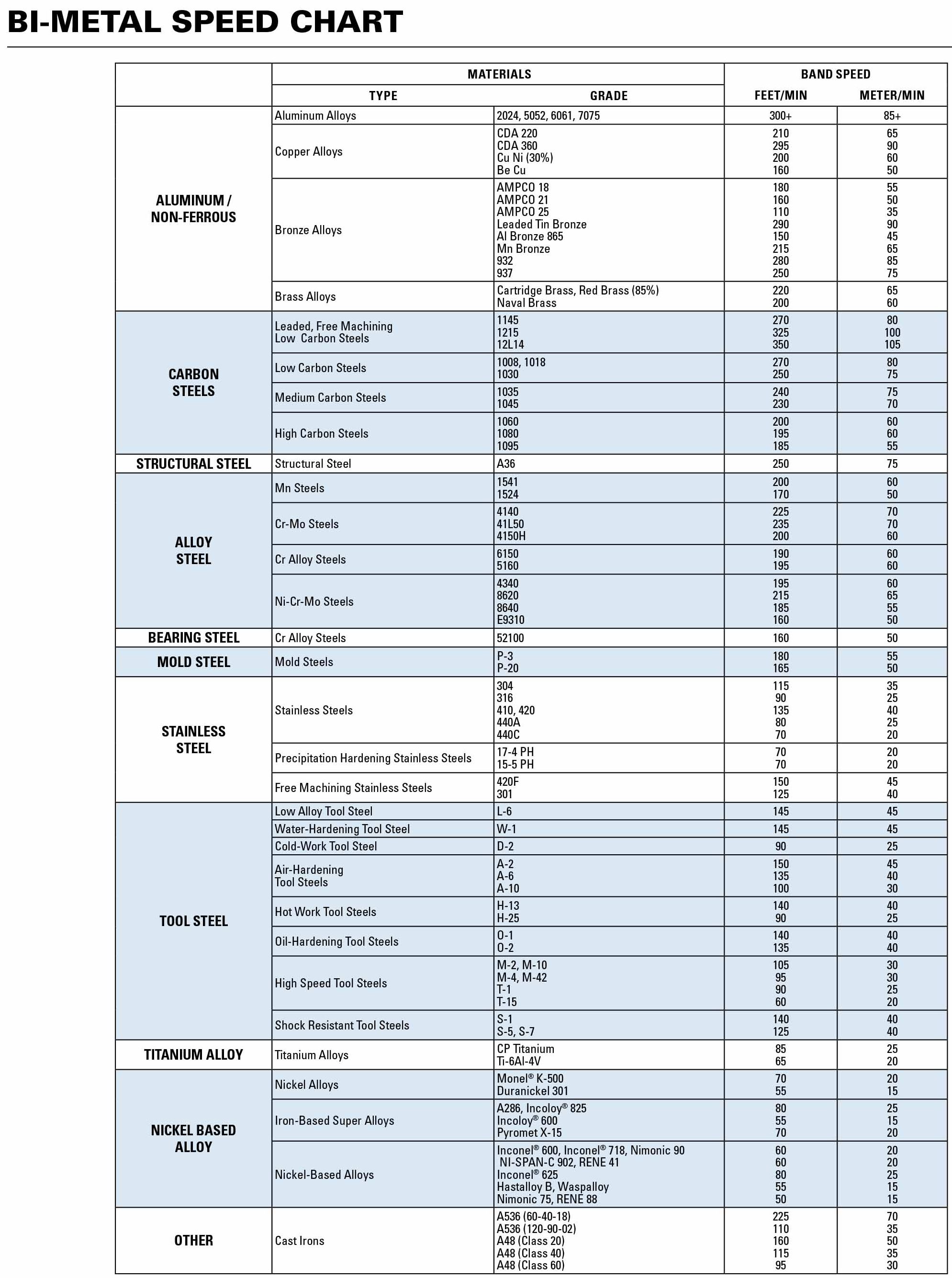 Congratulations on making it through this whole page! Now you get to find out how to save money when ordering your bandsaw blades
Saving Money Buying Bandsaw Blades in Bulk – Our system is designed to allow you to "mix and match" different length, width and TPI selections to obtain the best possible pricing. The discounts applied to your blades are based on cumulative pricing at the "Price before discount" level. So as you add blades to the cart the system keeps track of the cumulative total and applies discounts when you reach $100 and a further discount at $250. 
Saving Money on Shipping – Shipping is calculated using "Live Rates" from several courier companies giving you multiple choices in the checkout. You can save on shipping 2 ways:
The more you buy, the more the shipping is discounted – as you add more blades to the checkout, a percentage of that value will go towards adding shipping discounts so try different amounts of blades to find the shipping "sweet spot" for your order.
Factory direct shipping – once your order reaches $100 (after discounts), a second shipping option will be available to you called "Direct from Main Warehouse". Choosing this option will save not only time, but in many cases the rates from our Winnipeg factory work out cheaper (depending on your location) than shipping from our BC Warehouse.