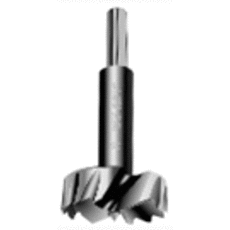 What are Forstner Bits and why/where are they used?
When you are looking for a clean, splinter free hole in hardwood, softwood, plywood or other man-made materials like MDF, forstner bits are often your best choice.
Most forstner style bits feature these common features;
Smooth cutting exterior "knife edge". Some versions of forstners also have teeth cut into the outside edge and/or side clearance relief ground into the outside of the cutting surface.

Centering point – so that you can place the hole accuratly in the workpiece.

Chipper blades – these are the 1 or 2 flat bottom "scraper" blades that hog out the material from the middle of the cut.

Reinforced shank – for strength

Shank – either hex or round shank for chucking into hex adapter or a drill chuck.
Forstner Bit Use
Forstner bits are best used in a drill press so the workpiece can be held secure. Drill into the material using firm even pressure until you see the ejected chips beginning to pile up. At that point back off the drill to allow it to clear before entering the hole again to continue drilling. If you are drilling all the way through, it is best to have a "sacrificial" piece underneath to help avoid blowing out the back side of the cut. Drilling holes using a forstner bit with a hand drill is possible, however there is a high likelyhood of the forstner drill "walking" if you do not get the drill perfectly straight and the outside wing catches the material being cut. To minimize this affect, begin drilling by "pulsing" the trigger while holding the drill and forstner as straight as possible. Do not go into full drilling mode until you have established the hole and the chance of walking is gone.
Forstner Drill Bit Selection
Woodpecker – WPF - Best Value and largest size selection
Made of High carbon steel, these Forstner drill bits are designed to bore clean, flat, precise holes in a variety of woods. Forstner bits with up to 1" Diameter are made to fit the SnappyTM System (1/4") hex. Forstner bits over 1" Diameter are made with 5/16" or 7/16" hex shank to prevent slippage
Super – FORST - Professional quality for production
European Quality bits - Premium steel, Made in Germany Newly designed cutting head - drills faster, cuts cleaner and lasts longer. Used for - flat bottom, mortising, angled holes and drilling on a void.
Bormax – BOR or BORL(extra long) - Most Popular for long life and clean holes 
An innovative new design that outlasts any Forstner drill bit currently on the market! Made in Germany from the finest tool steel, heat treated for durability and accuractely CNC machined to perfection! Razor sharp edges for excellent finish. Works fast in bor Hardwood & Softwood. Incorporates Saw Tooth style and wave form side clearance for tear free accurate holes.
Bormax3 Carbide Tipped – BORCT - Extreme long life for hard/abrasive materials
A true carbide tipped Forstner bit - Carbide centering point - High cutting quality - Carbide main cutting edge and carbide teeth - Less friction, no overheating - Less power needed - For use with hand drill & drill press machines. Application: Drilling tear-free and accurate holes in all types of wood: solid wood, soft wood, hard wood, exotic hard wood (also Bongossi), panel materials and plastic laminated boards.
Click here to go to Forstner Bit Selection