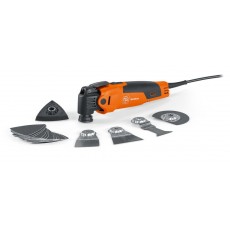 What Makes the Fein Multimaster Power Tool So Special?
If you are looking for high-end power tools, you are likely already familiar with Fein. Founded in 1867 by brothers Wilhelm and Carl Fein, this company was responsible for the creation of the electric drill back in 1895 and has gone on to create a variety of other innovations. Today, the company is known for a host of tools, including the Fein Multimaster, the standard of excellence in oscillating power tools.
What makes the Multimaster so special?
The Fein Multimaster is the top choice for interior construction and renovation power tools, designed to help make tougher jobs safer and easier. They manage to innovate while sticking to the basics and not adding anything gimmicky.
Features of the Fein Multimaster
Powerful.  No matter which version of the Multimaster—cordless or corded—you use, you will have the power you need to get your job done.
Starlock Plus Blade Change System. Install and eject blades quickly and easily using the innovative Starlock Plus system. When you come to the end of one job and need to switch out a blade, the Starlock Plus Blade Change System allows you to do so without having to touch the blades themselves.
Light Weight. Despite their power, Fein Multimaster tools stay remarkably light, without sacrificing quality.
Low Vibration. If you have ever used any other oscillating tool, you'll find yourself thinking the Fein Multimaster has hardly any vibration at all. This is accomplished through the use of a self-supporting motor with vibration decoupling. What this means for you is that it features very little vibration, making for easier, more comfortable work.
Noise Level. Whenever you are using an oscillating tool, noise is going to be a factor. Fein understands this and has made improvements to reduce noise levels without sacrificing power and performance.
Plenty of options. Depending on your needs, different models and formats are available. For example, the FMM350Q is available in the StartQ kit, which comes with basic accessories, suitable for those who might already have an oscillating tool and several accessories. It comes with a nylon tool bag, triangular sander backing pad, nine assorted sanding sheets, and a #152 saw blade. For those seeking a little more, there is the "Top" kit, which includes a hard-shell storage case and a greater number of accessories.
Whatever your needs, the Fein Multimaster Oscillating Tool has you covered, and when you're ready, Online Supply provides choices ranging from basic to more complete sets. The Fein Multimaster makes your projects easier, while Online Supply makes getting what you need easier on your wallet.
Check out our range of Fein Multimaster Tools today!