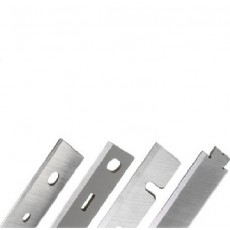 The knives that are included in your stationary or portable power planes are good for getting started out of the box, but they won't produce the best results and will ultimately fail the test of time.
Purchasing a high-quality knife will yield you much better results and last a lot longer. There are a few different types of knives you can find on the market for your power planer:
The TCT blades are tipped with a tungsten carbide insert to increase the longevity of the blade. The blades will last the longest when compared to steel blades - in particular in the case of very abrasive woods like teak, you can see up to 50X the life of the standard HSS blades. The drawback to carbide is in the finish, a freshly sharpened HSS knife will produce a superior finish compared to carbide tipped knives. If you have very large projects or job and the finish is not as important to you these are the blades for you. These blades are especially suitable for: exotic hardwoods, pressed wood (MDF), layered wood and all laminated materials.
High Speed Steel planer blades are the best choice for general usage and will create very smooth surfaces. At Online Supply we offer two types of H.S.S. blades, M2 Planer knives and T1 planer knives. The T1 knives contain 18% tungsten compared to the M2 and last 3 to 5 times longer. This is a great alternative if you are looking for a smooth finish but require a long-lasting blade for a larger job.  The H.S.S. blades are suitable for hard & soft woods such as: Cedar, Douglas fir, Pine, Poplar and Spruce.
Make Your Blades Last

Ensure that the material you are using is completely clean before putting it through your planer. If there are any contaminants on the material, like soil or sand, it will greatly reduce the sharpness and lifespan of your blades.
How Do You Know When Your Blades Are Dull?
There are a few ways to check if your blades are dull. Visually inspecting your wood is the quickest way to know if your blades are on their way out. You should have a smooth and glassy finish to the surface when the blades are sharp. Over time the blades may develop nicks and leave ridges in the finished wood. These ridges can sometimes be minimized by slightly offsetting the blades. You may also notice that feed times are longer and noisier. The other method is to visually inspect the knives by shining a light directly on the cutting edge, a sharp blade will not reflect the light but a dull (rounded) edge will reflect the light back to you. These are all signs that the blades need to be changed. Chances are if you are thinking that the blades are dull, they need changing.
Looking to purchase a knife for your machine? Visit our page on planer, jointer, and insert knives. We have a wide selection of Dimar blades so you can be assured that your new blades will be as good or better than the blades currently on your machine.
Have questions? Not sure which blade you need for you application? Contact us today using our chat bubble (bottom right corner of all pages on this web site) , send us an email or give us call toll-free at 1-888-665-6936 and we can help you with your blade selection.